Welcome to the expert for solutions in the high-temperature range

Individualized products and services
Since 1992, HTM Reetz GmbH has been designing and producing high temperature devices as standard or individually according to customer needs. More than 50 years of experience in research and development paired with versatile production enables us to offer you suitable products directly or to respond flexibly according to your requirements.
Our product portfolio includes a variety of complex heating and furnace systems for temperature ranges from 0 to 3000 °C, including various components for defined gas and/or vacuum atmospheres. Within the scope of what is technically feasible, we also implement new ideas flexibly and progressively.
Please do not hesitate to contact us.
If you are looking for a standard furnace, an application-specific furnace or a custom-made furnace, we will be happy to advise you in a personal meeting.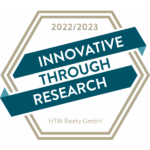 Select your working temperature
and working atmosphere

up to 3,000 °C - Inert gases

up to 2,500 °C - Inert gases and vacuum

up to 1,800 °C - Gases and vacuum depending on furnace type

up to 1,500 °C - All gases

up to 1,200 °C - All gases

up to 750 °C - All gases



Funding project

As an innovative company, HTM Reetz is continuously striving to develop new products and processes, and is supported by funding agencies such as the IBB, for example in the project "Ofentechnik 3.0" (Furnace Technology 3.0).
Objective: Development of new energy-saving thermal insulation materials for use in tube furnaces, which are free of – according to EU Directive 97/69/EC and TRGS 619 – probably carcinogenic ceramic fibres, but provide almost identical thermal insulation in the temperature range up to 1350 °C (in air) and up to 1750 °C (in non-oxidizing atmosphere).
Expected result: Launch of a new product range in the field of high-temperature tube furnaces that is free of aluminium silicate fibres.
This project is co-financed by the European Regional Development Fund [ERDF].