Cold wall furnaces / Vacuum furnaces

Cold wall furnaces or vacuum furnaces are furnaces in which a gas-tight, pressure-resistant housing encloses the heating conductor and working chamber, while at the same time the wall is cooled to ensure the strength.
Usually these are vacuum or high-pressure furnaces with heaters made of graphite or refractory metals such as tungsten or molybdenum. Tube furnaces of type LORA-G can also be assigned to this furnace class.



Cold wall high vacuum furnaces with tungsten heater

Thanks to the exclusive use of shielding plates for thermal insulation and ventilation with dry inert gas, cold-wall high-vacuum furnaces with tungsten heaters are characterized by good vacuum, short pump-down times and fast cooling times.
Short description:
Temperatures up to 2500 °C
Atmospheres: inert or vacuum
Working area diameter: approx. 100 to 300 mm
Heated height: 200 to 400 mm
Achievable pressure: 1 x 10-6 mbar
Power range: 10 to 100 kW
Temperature measurement with pyrometer or thermocouple type C (up to 2200 °C
Heating system:
Charging:
Top loader
Lift-bottom furnaces
Equipment features:
Complex control unit with PC interface for furnace,
vacuum generation, inert gas inlet and sample movement
Software for control unit
Movable sample thermocouples
Observation window
Crucibles and boats
Rotating sample stages
Protective gas system with pressure relief valve for operation as
protective gas furnace
Applications: 
Physical experiments
Solid state chemical analyses
Melting/alloys
Sintering
Recrystallization (W-coils in lamp production)
Vacuum tempering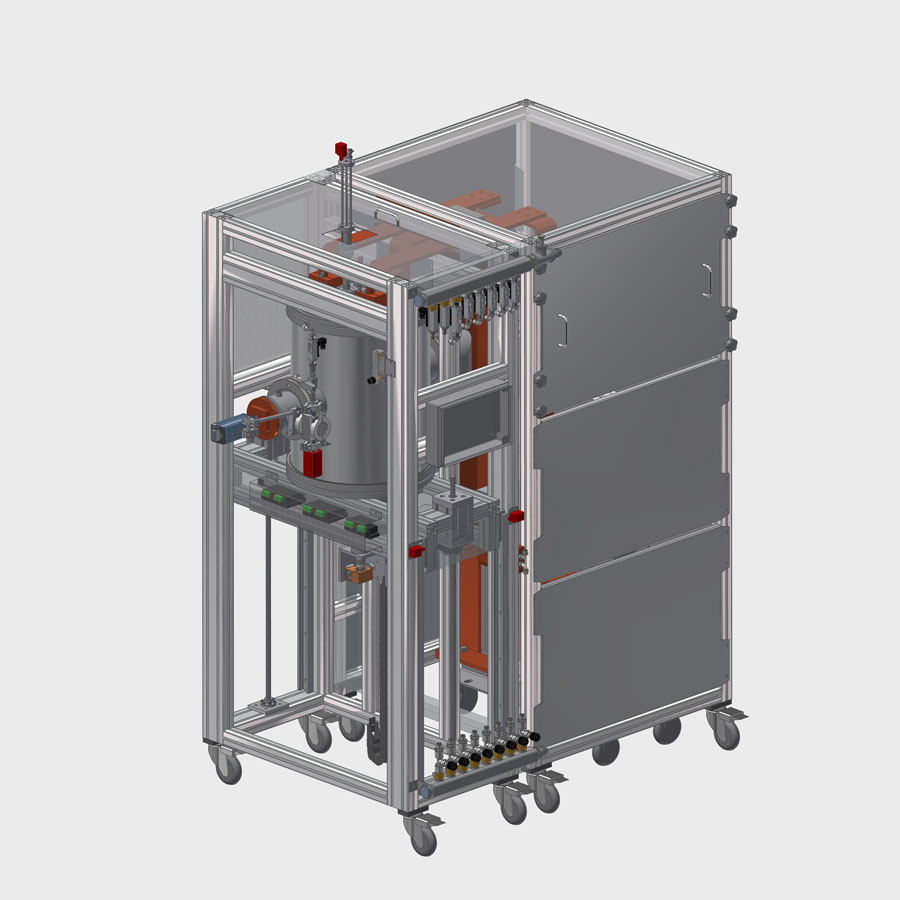 Cold wall high pressure furnaces

The furnace type cold wall high pressure furnace combines a pressure-resistant cooled wall with a metal heater. Materials are used for insulation, which make heat exchange by convection particularly difficult.
Short description:
Temperatures up to 1800 °C
Atmospheres: depending on the heater used
Working area diameter: 40 to 100 mm
Heated height: 200 to 2000 mm
Achievable pressure: 100 bar
Power range: 10 to 100 kW
Temperature measurement with thermocouple
Heating system:
Charging:
Top loader
Lift-bottom furnaces
Equipment features:
Wide range of control units with and without PC interfaces
Software for control unit
Crucible
Movable sample thermocouples
Feeding device with gravimetric dosing
Quenching device
Additional working tubes
Applications:
Melting/alloys
Pressure sintering
Investigation of the reaction kinetics at high
temperatures and pressures